'Champagne socialist' Charlotte Church 'more of a prosecco girl'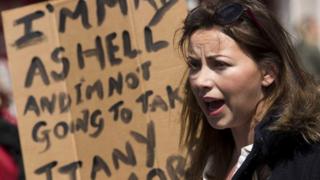 Singer Charlotte Church has hit back at claims she is a "champagne socialist" saying she is "more of a prosecco girl".
A war of words broke out between Ms Church and the leader of the Welsh Conservatives after she addressed an anti-austerity rally in Cardiff.
She said the UK had "masochistically condemned itself" to a Tory government.
On Sunday, Andrew RT Davies called her comments "unfortunate and unbecoming", calling her a "champagne socialist".
In a blog, Ms Church responded to Mr Davies, writing it was her "democratic right" to demonstrate, adding: "I was born in a working-class family who have for generations been active in political protest."
She claimed that Mr Davies might want her to keep quiet "because I threaten his status as a wealthy, privately educated, white male".
Ms Church also said she would be joining a protest march in June in London.