Man's hand reattached after DIY accident with circular saw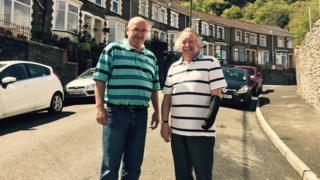 A retired teacher who cut off his own hand in a DIY accident has regained its use after surgery.
Edryd Jones, 69, was using a high-powered circular saw to cut timber at his home in Ferndale, Rhondda Cynon Taff, in October.
The sleeve of his top got caught and dragged his left arm under the blade.
Neighbours ran to his aid after he raised the alarm and surgeons were able to save his hand. "I was absolutely astonished," said Mr Jones.
The machinery has a safety guard, but Mr Jones was holding it at an angle meaning it did not automatically drop down as it would when used properly.
After cutting his hand off, Mr Jones knocked on the door of neighbour, Rob Edwards, who used a tea towel as a makeshift tourniquet.
"I was numb. I thought he could be in serious trouble," said Mr Edwards.
The pair went into the street and shouted for help, prompting one neighbour to call an ambulance, while another retrieved Mr Jones's hand from his house and put it on ice.
Mr Jones was taken to the Royal Glamorgan Hospital before being transferred to Swansea's Morriston Hospital for a nine-hour operation to re-attach his hand.
"I knew I was in good hands, but I thought I'd never see my hand again," said the former Llwydcoed Primary School head teacher.
He extended his thanks to his neighbours, the paramedics, doctors and staff who treated him at both hospitals who had "helped me have a normal life".
The grandfather-of-two said he never felt any pain and friends were "absolutely amazed" when they see how his arm looks now.
Dean Boyce, a consultant plastic surgeon at Morriston Hospital, said: "It takes quite a long time for sensation and function for nerves to return - I'm hopeful he'll get useful function."
Morriston is one of just a small number of hospitals in the UK which has all the necessary specialists to complete this operation and is the only one in Wales.