Sadie Jenkins denies attempted murder of two children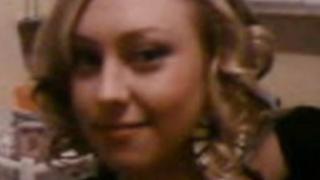 A woman accused of trying to kill two children at a house in Newport may have been suffering from an amphetamine-induced psychiatric illness, Cardiff Crown Court has heard.
The children were attacked with a kitchen knife on 7 May 2014, the jury was told.
Prosecutor Paul Lewis told the court how Sadie Jenkins, 28, "used it in an attempt to cut the throats" of the children.
Ms Jenkins denies attempted murder.
The jury heard how during the attack, the screams of the children woke other people in the house and they were found to have suffered "significant injuries" to their necks which required "urgent surgical treatment".
Taking the jury through the events, Mr Lewis said a woman in the house was woken by the screaming children.
The woman told the court: "I heard the children screaming. Not a normal scream."
She said she ran into a bedroom and saw a child with blood on her chest.
She said Ms Jenkins was "leaning" near the child with a knife.
The knife was shown to the jury and described as "six inches long with a serrated edge", the jury was told it was bent during the attack.
The woman told the court that Ms Jenkins said "she was sorry but it had to be done".
Ms Jenkins then attacked herself and the woman tried to wrestle the knife off her, she was eventually disarmed by the woman's husband.
Urgent surgery
Both children were taken by ambulance to the Royal Gwent Hospital in Newport where they received urgent surgery.
Mr Lewis told the jury that the defendant had been heard to say, "voices told me to do it".
The jury had earlier been told how Ms Jenkins was a drug user and that her amphetamine use would "feature very large in the psychiatric evidence".
The court was told the defendant intends to argue that when she attacked the children she was "legally insane".
Ms Jenkins was arrested on suspicion of attempted murder and then detained under the mental health act.
The court was told that two forensic consultant psychiatrists believe Miss Jenkins was suffering from an amphetamine-induced psychiatric illness at the time, and that she did not know her actions were wrong.
The trial continues.