Hotel and flats plan for Cardiff's Millennium Stadium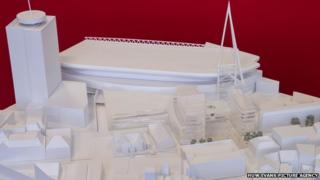 Plans for a hotel, flats and conference facilities linked to Cardiff's Millennium Stadium have been unveiled by the Welsh Rugby Union (WRU).
The multi-million pound scheme has been in the pipeline since 2007 but the global financial crisis delayed it.
Now the WRU hope building work can start in 2017 and take two years.
It will include a 100-bed hotel and up to 70 flats along with retail units, banqueting suites and a conference centre with walkways to the stadium.
WRU group chief executive Roger Lewis said it was too early to say how much the scheme, which spans 200,000 sq ft, would cost.
He added: "The overarching ambition for the land is to create a lasting legacy, not only for the Welsh Rugby Union and the Millennium Stadium, but also for the city of Cardiff and our immediate neighbours.
"Most importantly it is to overall enhance the visitor and spectator experience to the stadium and the city."