Use of speed cameras criticised by Gwent police commissioner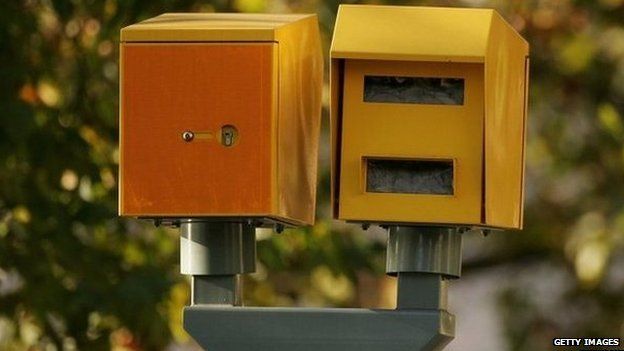 Scrapping a scheme where drivers are fined for speeding in a bid to improve road safety would be welcomed by most people in Wales, it has been claimed.
Gwent police and crime commissioner Ian Johnston said speed cameras used by the GoSafe scheme are "only set up for one reason".
Instead, he wants to see an increase in the area's Community Speedwatch scheme where people receive warnings.
GoSafe said each police force in Wales has a safety camera unit.
It said each unit has a corresponding sergeant co-ordinator assigned to it who can address issues locally, to ensure it enforces at the right place, at the right time, for the right reason.
But Mr Johnston told BBC Wales: "If we did away with GoSafe, I think many members of the public would say 'thank God for that'."
He added: "I think the system currently is broken.
"Eighty members of the public came out to complain about speeding 18 months ago and when they called GoSafe they were told their area didn't fit their criteria.
"So where's the link between the public making complaints and the GoSafe vans being placed where there is a problem?
"It can't be right that the public aren't getting a say in it, and I know it's controversial, GoSafe is funding neutral in Gwent… if we got rid of it tomorrow, it wouldn't cost us anything.
"Place these vans where the public say they're needed not where GoSafe say they're needed and I think we'll see a rise in public confidence in the police and speeding.
"At the moment it's one of the big issues that gets talked about in pubs and in all the meetings I go to."
Mr Johnston wants to see an expansion of the Community Speedwatch scheme which utilises volunteers to identify speeding vehicles and sends the owner a warning letter, rather than a fine.
It was launched in 2014 in Llanfair Killgeddin in Monmouthshire and has expanded to the villages of Llandogo and Tintern, with more than 18 volunteers between the two new sites.
Mr Johnston's office has also just agreed further funding for another six sites across the Gwent area, involving 75 volunteers when up and running.
Related Internet Links
The BBC is not responsible for the content of external sites.