Twins Glenys Thomas and Florence Davies, 103, die weeks apart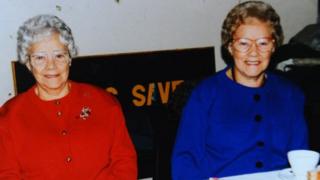 Twins from Caerphilly who were among the oldest in the UK have died within weeks of each other.
Glenys Thomas and Florence Davies, who were 103, lived next door to each other for most of their lives in Abertridwr.
The pair later lived together at a care home in the village before Glenys died on 23 April and Florence died on 20 May.
The twins, born on 22 November 1911, had five children, 12 grandchildren and 19 great-grandchildren
The pair lived through two world wars, 19 British prime ministers and were born in the same year as the coronation of King George.
In the care home they had an interior door joining their two kitchens and they had rooms a couple of doors away from each other.
---
Guinness World Records - oldest twins
The record for the oldest twins living (female) is unassigned due to the death of the most recent record holders
Guinness are currently looking for new candidates for the record
Edith Ritchie and Evelyn Middleton previously held the Guinness World Records title with an age of 104 but Edith passed away in July 2014
The oldest twins ever were Kin Narita and Gin Kanie of Japan. They were born on 1 August 1892. Kin died of heart failure on 23 January 2000 at the age of 107 years 175 days
---