Cardiff research centre to tackle terrorism via social media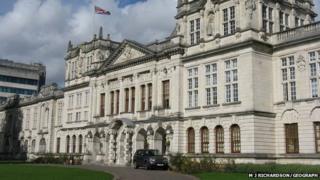 A new research centre exploring how terrorism can be tackled through social media and new technology will be launched in Cardiff.
Cardiff University will host the Open Source Communications, Analytics and Research (OSCAR) Development Centre.
Funding has been secured through the £10m Police Knowledge Fund.
It will develop an evidence base of ways to reduce crime, from counter-terrorism to community policing, by accessing "open source information".
Co-ordinated through the Universities' Police Science Institute, the project is in partnership with the National Counter Terrorism Command of the Metropolitan Police and South Wales, West Midlands, Surrey and Sussex police forces.
South Wales Police and Crime Commissioner Alun Michael said the move recognises how new technology can support policing.
Centre director, Professor Martin Innes, said: "We know that new technologies like social media are transforming the ways people relate, communicate and interact with each other, and we are increasingly aware that such developments present both challenges and opportunities for policing."
The centre's research will ensure forces are "not trying to tackle 21st Century problems with 20th Century policing models", he added.