Recycled stand used for new Llangewydd Junior School classroom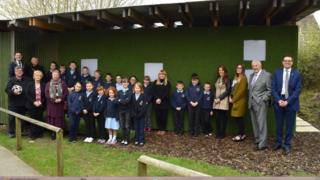 A school has come up with the ideal place for children to learn about the environment - in an outside classroom with "grass" on the outside and "trees" on the inside.
Llangewydd Junior School in Bridgend has recycled an old Urdd Eisteddfod exhibition stand for storytelling, art classes and science lessons.
Astro turf covers the exterior walls, while inside there are fabric "trees".
Head teacher Sue Davies said it was the first of its kind in Wales.
"We've been able to recycle an old Urdd Eisteddfod exhibition stand, which was used in 2014 in Llanelli, and have given it the 'Llangewydd' magic touch," she added.
Councillor Richard Young, the mayor of Bridgend, said: "Members of the school's eco-committee have been integral to the project and it was great to meet with them and see first-hand the enthusiasm and passion that they have for the environment and all things green."