Tributes after Tubby the 'world's greenest dog' dies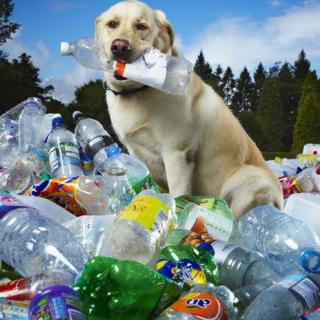 A Labrador called Tubby who was entered into the Guinness Book of Records as the world's greenest dog has died.
Tubby, who died aged 13, won the title in 2011 after picking up 26,000 plastic bottles on his twice daily walks and crushing them in his mouth.
He would then carry them over to his owner Sandra Gilmore, from Pontnewydd, Torfaen, to be recycled.
Guinness World Records said it was sad to hear the news.
"It was a pleasure to have Tubby feature in the book," a spokesman said.
"It was a unique record and we are honoured to have been able to verify his achievement in the community."
'Smallest carbon paw print'
Mrs Gilmore, 59, believes Tubby collected more than 50,000 discarded bottles in his life time as he was more obsessed by them than the usual dog playthings like a ball or stick.
"He meant so much to us and the local community and he had friends all over the world," she said.
"He didn't let it all go to his head though as he was always the keenest, greenest recycling canine around with the smallest carbon paw print ever."
Torfaen council's waste and recycling manager Cynon Edwards said: "He was a remarkable dog and did a great job sniffing out rubbish to recycle, and helping to improve the environment for everyone in Torfaen."
Tubby's green efforts won him fame, including being invited onto the BBC One Show, appearing on Channel 5 and being presented with a bone live on ITV.