Formula 1 tips for Cardiff hospital newborn baby team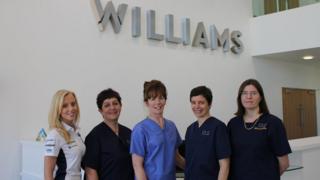 Staff at Wales' largest neonatal unit have had tips from a Formula 1 pit stop team on speed techniques to use in resuscitating newborn babies.
University Hospital of Wales staff realised there were similarities between both teams and asked for help to streamline their processes.
Neonatal staff visited Williams' Oxfordshire factory to see first-hand how they operate during a pit stop.
Changes include the use of floor maps, more hand signals and video analysis.
Staff said in both cases, a large number of people had to work in a time-critical and space-limited environment.
The Williams team can change four tyres on a car in about two seconds, and works with a human performance specialist Gemma Fisher to fine-tune the crew's procedures and techniques.
She said: "Initially we were a little bit taken aback and thought 'how can we relate the two?'
"But we visited the site in Cardiff and actually when we started to dig a little bit deeper and look at the processes involved in both sides, we soon saw the correlation between the two.
"There was a lot of areas where there were a lot of similarities and ways that we can hopefully impart some strategic planning, our training techniques and analysis and look at that from a neonatal resuscitation perspective."
After their visit to Williams, the neonatal team streamlined the resuscitation equipment trolley to ensure equipment could be found as quickly as possible and mapped a standardised floor space in delivery theatres to clearly show the area for the resuscitation team to work in.
They are also adopting Formula 1 communication and analysis techniques such as a "radio-check" before a resuscitation begins, greater use of hand signals in preference to talking and video analysis to check on performance, with debrief meetings as standard.
Dr Rachel Hayward, a specialist registrar at UHW, said: "We've re-audited the streamlined trolley after six months and we found a significant improvement in the accessibility and the organisation of the equipment which in turn has a time-dependant effect on our resuscitation processes."
She added: "Delays in providing effective resuscitative care can have marked consequences on survival or the development of long-term complications."