Caerphilly school plants trees to remember lost students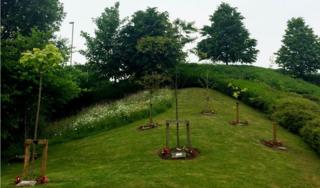 An all-boys school in Caerphilly county has created a garden in memory of the lives of former pupils.
The students of Lewis School, Pengam, Bargoed, crafted plaques and planted trees in remembrance.
An ex pupil died in a crash in the county on Wednesday and the school said another tree would be planted.
Head teacher Chris Parry said: "You realise, being head of an all boys school, just how frequently this happens."
'Very physical idea'
The first tree was planted three years ago after a pupil died following an asthma attack at a party.
Mr Parry said: "It's a very physical idea, but it happens so often that it makes you think a lot more about it."
The school has given open access for relatives to visit and said it may add a bench.