'Harry Potter' lawyer Alan Blacker struck off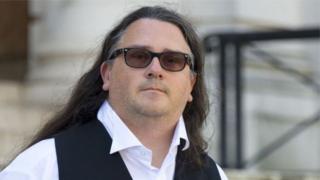 A lawyer criticised by a judge for dressing "like something out of Harry Potter" in court has been struck off.
Alan Blacker angered a judge at Cardiff Crown Court in 2014 by appearing with medals and ceremonial ribbons on his gown.
A Solicitors' Disciplinary Tribunal in London has found he made misleading comments about his qualifications, among other misconduct.
On Wednesday, he was struck off and ordered to pay £86,000 costs.
He appeared at Cardiff Crown Court in 2014 in the case of a minibus driver jailed for five years after being found guilty of causing the death of a cyclist by dangerous driving.
The lawyer was criticised by Judge David Wynn Morgan, who told him: "I have been practising in these courts since 1978 and I have never seen a barrister or solicitor appear before these courts wearing a medal or with badges sewn on to his gown.
"If you ever appear before this court again dressed as you are I shall exercise my right to decline to hear you.
"If you want to look like something out of Harry Potter you can forget coming to this court ever again."
In the disciplinary proceedings, the panel found seven allegations of misconduct proved against Mr Blacker.
They found he failed to mention properly written accounts relating to client and office money and failed to obtain an accountant's report during six months he held clients' money.
He also made misleading comments about his academic qualifications, made misleading claims about his accreditations, used titles which were misleading and failed to cooperate with the regulator, the panel found.
Mr Blacker, who was not present but denied all the allegations, was cleared of recklessly misleading the court.
Ed Levey, for the Solicitors' Regulatory Authority (SRA), said: "We don't know that he benefited financially from this.
"We don't know that clients have gone to him believing that he had accreditation or awards that he did not have."
The tribunal was earlier told Mr Blacker, who calls himself "Dr The Right Honourable The Lord Harley of Counsel of the Most Venerable Order of the Hospital of Saint John of Jerusalem", invented qualifications and titles.
Mr Levey said the lawyer also claimed to have been a banker in the 1980s, adding: "'His career in banking therefore seems to have happened in his late teens."
The SRA's representative also said Mr Blacker failed to keep documents because he was worried about paper costs.
"He says client advice letters are not put on file as they are too long and he can't justify such extravagant amounts of paper," Mr Levey said.
Mr Blacker has the right to appeal the tribunal's decision.