Birchgrove school leavers' Wales tour bus surprise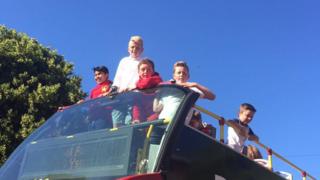 A group of children who expected to celebrate leaving primary school on an open top bus were given the surprise of their lives - when it turned out to be the Wales Euro 2016 team's bus.
The bus transported the Wales team around the capital as they returned home from the tournament in France.
The Birchgrove Primary School pupils "screamed" when they saw the bus in Cardiff, and were given a tour of the city singing football songs.
All 44 pupils rode on the open top.
Nicola Carr, whose daughter Minnie was one of the pupils, organised the surprise with another parent.
"We managed to ask a person who organised the bus whether it was available," she told BBC Radio Wales' Jason Mohammad programme.
"It was absolutely amazing, nobody knew so they were expecting a red double decker.
"I just remember hearing screaming."
The children sang Don't Take Me Home and Ms Carr said the atmosphere was "buzzing".
"We couldn't keep them calm to get them on the bus. They pushed past everyone to get on," she said.
"A real good memory because it's something they can keep forever.
"We had people waving and cheering, they were doing the Joe Ledley dance."
Minnie added: "It was amazing, we were all expecting a red open top bus and then the Wales bus came. Everyone was in shock."