Boxer Craig Woodruff broke man's jaw in football fight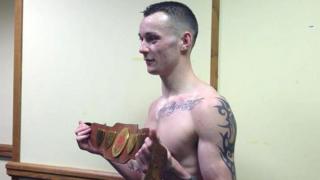 A boxer broke a man's jaw in two places during a five-a-side football match.
Mitchell Green, 25, was taken to hospital after being hit by ex-Welsh Area Lightweight title holder Craig Woodruff, 24, of Lliswerry, Newport.
There was a confrontation on the pitch following heavy tackles between Woodruff and opponent Daryl Mawle.
Woodruff admitted grievous bodily harm at Cardiff Crown Court and was given a 45-week suspended sentence and ordered to pay £2,500 compensation.
The court heard Mr Green was punched 15 minutes into the match between Grove Utd and Always FC in Newport.
Woodruff and Mr Mawle began pushing each other before Mr Green intervened to try and separate them.
Prosecutor Ieuan Morris said: "Mr Green tried to break up the squabble but was hit by Woodruff's clenched fist which caught him with such force that it knocked him to the ground."
Woodruff, who has fought nine times, including a defeat by Olympic gold medallist Luke Campbell, was also ordered to do 70 hours of unpaid work.
Heath Edwards, defending, said: "It was Mr Mawle who threw punches from the start and he responded."