Woman dies after car hits block of flats in Adamsdown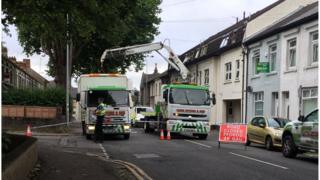 A woman has died after the car she was driving crashed into a block of flats in the early hours of Monday morning.
The crash happened at the junction of Meteor St and Moira St in Adamsdown, Cardiff, just after 00:30 BST.
The 22-year-old woman was driving a black BMW. A 21-year-old male passenger is in hospital with serious injuries.
Four people have been arrested in connection with the crash and Meteor Street is closed in both directions while investigations are carried out.