Family payout after patient had stroke following knee surgery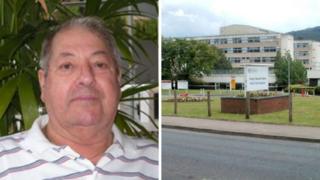 The family of a man who suffered a stroke following a knee operation and later died has received compensation.
William Hopkins, 79, was admitted to Nevill Hall Hospital, Abergavenny, for a knee replacement in June 2011.
He fell ill after a blood transfusion and it was later discovered he had had a stroke. An investigation found the likely cause was air present in the pressure bag and transfusion line.
Aneurin Bevan health board has since apologised to Mr Hopkins' family.
According to solicitors Access Legal, the stroke caused Mr Hopkins' condition to deteriorate "to the point where he was no longer able to take care of himself".
His family "struggled to cope" with his "significantly increased care needs" and he was placed in private residential care, the statement said.
Mr Hopkins died three years later, in May 2014, having battled with recurring bouts of pneumonia.
The family put a claim in against the health board over the care he received.
'Inadequete'
Solicitor Kishma Bolaji said: "In this case, we were able to establish that the failure to properly prepare and carry out the blood transfusion was attributable to inadequate training of staff.
"The rate of transfusion was also far too high and by allowing air to remain in the bag and the line the risk of a cardiac embolism was heightened, leading to the devastating consequences Mr Hopkins suffered."
The health board admitted liability and compensation was agreed, the statement said - although the figure has not been disclosed.
Mr Hopkins' son Gareth said: "Hopefully, because of our action, no other family of patients at this particular hospital will have to go through what we had to endure."
In response, the health board said: "We again sincerely apologise to the family of Mr Hopkins and our thoughts remain with them.
"Following our own investigation, the equipment was checked and staff who use the equipment across the health board received the appropriate training.
"Also, a protocol was developed and shared with all staff involved in transfusions across the health board.
"We can confirm there have been no similar incidents since this action was taken in 2011."