Council boss died after plunging off cliff in France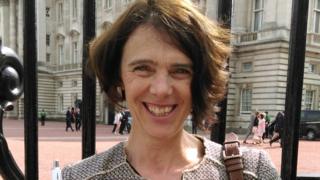 A council boss died after plunging 100ft off a cliff while riding through thick cloud in France, an inquest has heard.
Jennifer Hill, 57, missed a hairpin turn on the steep road on the first day of her holiday in the Pyrenees.
Ms Hill, from Monmouth, was Vale of Glamorgan council's director of education.
A conclusion of accidental death was recorded, with Newport Coroners' Court hearing she died instantly in August.
The keen cyclist was following her husband when she vanished through cloud into a ravine, the inquest was told.
However, her husband Adam Spector was unaware of what happened as he was ahead of her.
It was only when he stopped at a roadside cafe that fellow cyclists told him about the tragedy.
'Hugely talented'
The couple were riding on hired bikes on the first day of their holiday in the Gavarnie region.
"It was cloudy. We went through cloud on the way up and she was just behind me," said Mr Spector.
"We rode back down through the clouds and I took it slowly and carefully. I didn't look behind me."
He described Ms Hill as "very experienced", saying she rode 80 to 100 miles a week.
Gwent Coroner David Bowen said "she died doing a past-time she enjoyed"
He added: "I'm very surprised she lost control because she was so experienced".
Vale of Glamorgan council managing director Rob Thomas said: "Those of us who worked with Jennifer will remember her not only as being hugely talented but also for being extremely committed to her role, and to improving the standard of education in the vale."