Millionaire 'thought about poisoning' escort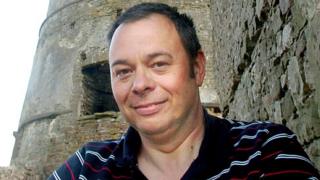 A millionaire accused of murdering his escort lover considered poisoning her as a way to get her to see a doctor about her drug use, a court has heard.
Peter Morgan, 54, thought about giving anti-freeze to Georgina Symonds, 25, so she would go to hospital, a psychiatrist told Newport Crown Court.
He said Mr Morgan "was concerned" and "wanted to engineer a situation where he could gain back control".
The father-of-two admits killing Miss Symonds but denies her murder.
Consultant forensic psychiatrist Dr Phillip Joseph said Mr Morgan, from Llanellen, near Abergavenny, was concerned about Miss Symonds' cocaine habit and suicide threats.
"He told me he did think about giving her anti-freeze over Christmas so she would go to hospital and doctors could help her with her drug problem," said Dr Joseph.
The trial previously heard that Mr Morgan paid the former burlesque dancer £10,000 a month to work as his exclusive escort, while maintaining a relationship with his wife, Helen.
He "wanted to have his cake and eat it," said Dr Joseph.
"He told me he was seeing Georgina because she made him feel young again.
"When Helen found out he told her he wouldn't give up Georgina for her. But he didn't want to give up Helen either."
The court heard Mr Morgan began seeing escorts in 2011 when his sex life deteriorated.
He met Miss Symonds soon after and he told Dr Joseph he saw their relationship as "ideal and perfect".
The trial previously heard how Mr Morgan strangled Miss Symonds after hearing she had planned to leave him.
He killed her at her home in his castle grounds in Llanmartin before wrapping her body in plastic and duct tape and hiding it in farm buildings behind his family home.
Mr Morgan denies murder saying he was suffering from diminished responsibility due to Asperger's syndrome.
The trial continues.