'Kill yourself' message put on Gwent police officer's car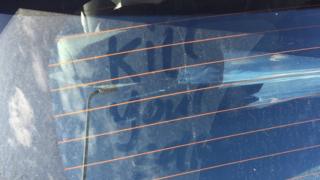 A police officer has written a letter of response after finding a message on her car telling her to "kill yourself".
The Gwent Police officer found the message written on the window.
In her letter she said: "I want you to know that however much you might think you hate me, if you ever need me you can just dial 999."
Gwent Police said it fully supported their officer and said such behaviour against their staff was unacceptable.
Chief Constable Jeff Farrar said: "Officers face challenges every day in policing their communities.
"In this job we shouldn't have to stand by and see hateful comments like this directed at officers who provide an impartial and inclusive service every day.
"What a reply to see, in my view this firmly establishes why we choose a role in policing and reinforces what is important in delivering that service.
"I am fully supportive of the officer and their response to this thoughtless act.'
The force's Bettws Officers, wrote on their Twitter account: "To the lovely human being who left this message on an officer's personal vehicle... We have left you a reply #PoliceArePeopleToo #NoGrudges"