Gang attack pupils playing in Cardiff rugby tournament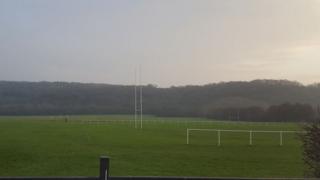 School children playing in an inter-schools rugby match have been attacked by a group of youths in a Cardiff park.
Reports claim some of the gang were carrying knives and bats when they set about the teenagers at a park in Ely.
A boy was taken to Cardiff's University Hospital of Wales with a broken jaw while a school minibus's windows were broken during the attack.
Police are investigating and three boys, one aged 16 and two 15-year-olds, were arrested and released on bail.
Pupils from Fitzalan High School and Glyn Derw and Michaelston Federation were playing in the game at Trelai Park on Wednesday when the gang approached.
The gang reportedly had no link to either school and PE teachers from both schools stepped in a bid to protect the children from the attackers.
A Cardiff council spokesperson confirmed the police were called to the park during the game.
The council said that "a number of individuals not involved in the match are believed to have assaulted some of the players."
"Both schools are now working to support the young people involved and a police investigation is now underway."