Teens on bail after armed gang attack schools rugby match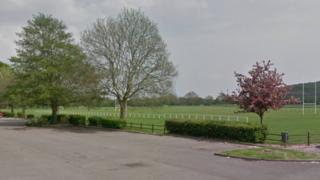 Investigators are still trying to identify members of a gang armed with knives and bats which targeted a Cardiff schools rugby match.
Pupils from Fitzalan High School and Glyn Derw and Michaelston Federation were playing in the game at Trelai Park in Ely when they were attacked on Wednesday.
One boy was taken to hospital.
South Wales Police said two 15-year-olds are on bail and a 16-year-old will face no further action.
PE teachers from both schools protected the children during the attack and one boy was treated at Cardiff's University Hospital of Wales for a broken jaw.
School minibus windows were also smashed.