Cardiff ambulance damaged after Six Nations clash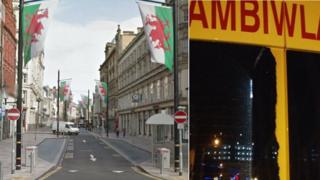 An ambulance is off the road after a Cardiff reveller threw a bottle at it, smashing a window, the Welsh Ambulance Service has said.
The incident happened on St Mary Street at around 22:20 GMT on Friday, following the Wales v Ireland Six Nations rugby match.
Repairs to the vehicle, which is dedicated to treating alcohol-related injuries, will cost about £300.
Director of operations Richard Lee called it a "malicious act".
Mr Lee, who was on the ambulance at the time, said: "It's hugely irresponsible for people to vandalise emergency vehicles of any type, but more so at a time when the service is faced with high demand.
"This was a malicious act which meant that one of our ambulances is now unable to respond to 999 calls.
"Such reckless action can put lives at risk, and we would urge anyone with information to contact police."
Insp Jacquie Johnson, of South Wales Police, added: "The individual's senseless actions are likely to have been caused by drinking too much alcohol and the consequences of those actions are significant for the ambulance service."