Corn snake rescued from van headed to Neath scrap heap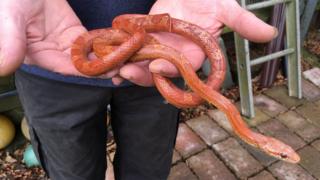 A corn snake has been discovered in a Neath van destined for the scrapheap.
The harmless reptile was found inside the vehicle after it was dropped off at a yard on March 8 and rescued by animal collection officer Ellie West.
While the snake is believed to have been in the van for some time, it is now "fine and well" in an animal shelter.
Ms West said it was "a relief" it had been saved.
Most corn snakes sold in the UK are bred in captivity, but have very complex and special needs.
RSPCA Wales is appealing for information about where the snake may have come from or who the owner is.