Nos Galan race founder's daughter takes on patron role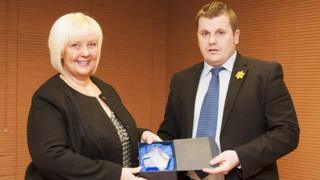 The daughter of Nos Galan road race's late founder has been announced as its new patron.
Bernard Baldwin launched the 5km (3.1m) event in 1958 to celebrate the life of Welsh runner Guto Nyth Bran.
It attracts thousands of runners and spectators to Mountain Ash each New Year's Eve.
Mr Baldwin, who was made honorary patron of the event in 2006, died in January and daughter Alison Leighton-Williams has now taken on the role.
"My father would have been so happy that this role has been offered to me and I cannot thank everyone enough for this fantastic gesture," she said.