Cardiff family stranded as Spanish volcano cable car breaks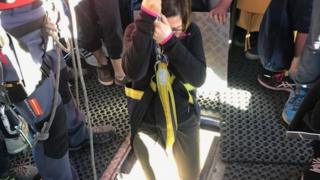 A couple and their six-year-old twins spent a night on the slopes of an active volcano after their cable car broke down.
The Jones family from Cardiff were among 70 tourists stuck 250ft (76 metres) in the air above Spain's highest peak, Mount Teidi in Tenerife.
They had to stay in a refuge on the side of the volcano before being airlifted to safety on Thursday.
"The kids think its an adventure but it was pretty scary," said Berwyn Jones.
Mr Jones wants to find the mountain rescue team for carrying his daughter Erin, who has cerebral palsy, because she "is pretty much deadweight".
"He was amazing," Mr Jones added. "All the rescue team were really good and so was the communication."
The Jones said they were "80% up the mountain" when the gondola stopped and spent about 21 hours at altitude before being rescued.
Mr Jones visited the popular tourist attraction with wife Jennifer and children Cai and Erin while on holiday in the Canary Islands on Wednesday.
He told BBC's Good Morning Wales: "There were no seats, so there was 35 stuck there for four hours.
"After four hours the emergency evacuation team opened the bottom of cable car, set up a winch and we then had to manually abseil 250 metres down to a part of the mountain for safety, which as quite scary for the kids."
A rescue helicopter was unable to assist before sunset so they sought refuge in a cable car station.
"It gets very cold at night," said Mr Jones. "We finally got to this shelter, which was concrete, with no heating. The mountain rescue team arrived with blankets and food for us."
A helicopter airlifted the family to safety on Thursday morning.
"We are all ok," Mr Jones added.