Trapped dog Cherry rescued from hole after drone search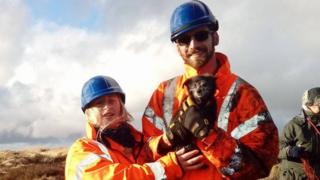 A dog trapped down a mountain hole after being missing five days was rescued following a drone search.
Chihuahua-cross Cherry, five, went missing on a walk and was found after a thermal imaging camera scanned the area above Cwmtillery, Blaenau Gwent.
Her owners enlisted the help of Cwmbran-based aviation firm Resource Group to look for their missing pet.
The thermal imagining camera detected Cherry and an old mining tunnel was used to rescue her.
She had gone missing at about 18:00 GMT on Wednesday 15 March while chasing sticks on a walk at Cwmtillery Lakes.
Staff from Resource Group joined teams from the RSPCA, Gwent Police and South Wales Fire and Rescue Service.
Using the drones, they were able to locate Cherry on Monday and the rescuers dug through an old mining tunnel to get to her.