Late night parties force children's log circle to move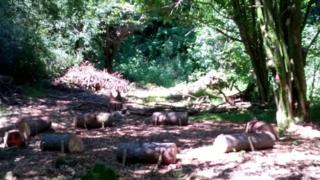 A log circle created for children to take part in storytelling activities has had to be moved after being used for late night parties and drug-taking.
The circle at Maesteg's Spirit of Llynfi woodland has been relocated after several incidents of anti-social behaviour.
Police were called to the latest incident earlier this month, Natural Resources Wales (NRW) said.
NRW said they were "incredibly disappointed" to take the action.
The log circle provides a place for schools and community groups to take part in storytelling, bush craft and other forest activities.
In May 2016, thieves stole stakes used to support tree saplings planted by schoolchildren in the woodland.
'Work destroyed'
Geminie Drinkwater, NRW project officer, said: "We are incredibly disappointed to have to take this action.
"Anti-social behaviour is something that can unfortunately destroy the work and effort of hard-working, caring volunteers looking to make a positive change in their community.
"The Spirit of Llynfi woodland project has only been made possible through the ideas and generous actions of local people, and we would encourage everyone in the community to make sure that this site, amongst others in the valley, is preserved and enhanced for generations to come."