Electrician's tools sold for £1 in charity shop returned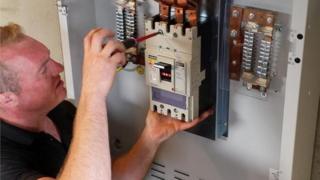 An electrician whose £200 worth of tools were mistakenly sold for £1 in a charity shop has had them returned.
Andrew Bickel, 39, was fixing a light at the Catwel shop in Cardiff two weeks ago when he nipped out to his van and returned to find his tools were gone.
He said he had a call from a lady in the cat charity shop to say his tools were there to collect, but with "no explanation of how, why or when".
Mr Bickel's original Facebook post about the mistake went viral.
He said he had enjoyed his five minutes of fame afterwards.
"I couldn't believe it," he said, "the phone just didn't stop ringing."
"The Sun newspaper came down to where I was working and took photographs, television crews wanted to film me and I even had an offer to appear on Judge Rinder," he added.
"I'm just waiting for the call to go into the jungle."
Mr Bickel said he had been offered £100 by a magazine for his story and, if it happened, he would donate £50 to the cat charity shop and £50 to a dog charity shop, after admitting he was "more of a dog person".
"I'm just glad no-one has been left out of pocket," he said.