Argoed hostel inquest: Guidance on homing ex-offenders 'not followed'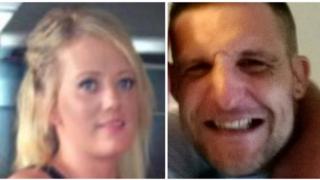 Welsh Government guidance on housing former offenders may not have been routinely followed by councils, an inquest into the deaths of Matthew Williams and Cerys Yemm has heard.
Williams killed Miss Yemm, 22, at the Sirhowy Arms Hotel in Argoed, Caerphilly county, two weeks after his release from jail.
He died after being Tasered by police.
The inquest heard Williams, 34, had wanted to be housed in Newport but the city council rejected his request.
The inquest in Newport was told Williams wanted to be housed near his father, but Newport council did not consider him their responsibility and sent him to Caerphilly council, which housed him at the Sirhowy Arms.
If he had been living in Newport, he would have been away from his former drug taking associates in the area where he grew up and "was most likely to offend", the inquest heard.
Lloyd Williams QC, acting on behalf of Miss Yemm's family, quoted from regulations which stated "housing authorities are required to give priority to offenders when released from prison".
In the guidance from the Welsh Government, he quoted: "Prison leavers may wish to distance themselves from known associates and be located outside the area."
He said there was an "obligation on local authorities" to carry this out and had Williams been housed in Newport "he certainly wouldn't have been in the Sirhowy Arms on the 6th of November", the night Miss Yemm died.
Earlier, PC Alison Perry, who visited Williams in prison before his release, told the inquest he did not want to engage with any help available to him.
The officer said Williams told her he intended to serve his entire sentence so he could not be made subject to any controls by the probation service.
She said he told her: "I've done my time, I'm a free man. I don't want any involvement with police or probation again."
PC Perry said she knew Williams's plan on leaving prison was to try and get accommodation in Newport to be near his father and to begin working for him.
She also said she knew Newport council would refuse to house him because he was not considered their responsibility.
In practice she said, "Newport wouldn't house him. That's how it works - they only have a duty to someone from that area".
PC Perry told the inquest she did not call Newport council's housing department to explain they would be likely to see Williams and it would be helpful if he could be housed away from Blackwood because of his offending behaviour and the threats he had made to people in the area.
She told the inquest that was not how the system worked in practice.
The inquest continues.