Monmouthshire golf club closes with 18 jobs to go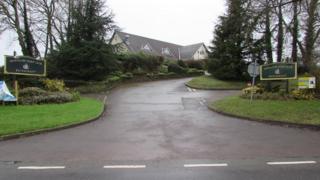 A Monmouthshire golf club will close on Friday after almost 30 years in business.
Members are playing their final rounds at Dewstow in Caerwent, near Caldicot, where 18 staff being made redundant.
Dewstow once had two courses and 1,000 regulars but membership has dropped.
Officials say the nearby Celtic Manor Resort in Newport, host of golf's 2010 Ryder Cup between Europe and the United States, has had an impact.
Plans have been submitted to Monmouthshire council to turn its clubhouse into a home.
Dewstow opened in 1988 but one of its two 18-hole courses was returned to farmland in 2014.
Tracy Rudge, Dewstow's office manager who will become redundant next month, said there would be no housing development on the remainder of the site because it was a green belt.
"It's very sad," she said. "Losing all the members and seeing them go round for the last time, and saying goodbye to all the staff I've worked with for many years."