Lorry freed after getting stuck in Cardiff city centre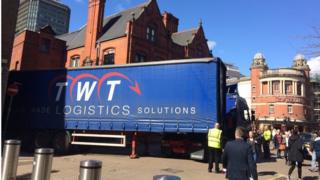 An articulated lorry has been freed after becoming stuck for several hours in Cardiff city centre on Friday.
The vehicle, which had been making a delivery, became wedged at the junction of Crockherbtown Lane and Park Place, close to the New Theatre.
After getting assistance, the driver was able to eventually manoeuvre the lorry free.
A Cardiff council spokesman said: "This wasn't your normal three-point-turn, it was more like a 23 point-turn".
There was no damage to the nearby buildings or disruption to traffic on major roads.