M4 Brynglas tunnel's weekend closure for upgrade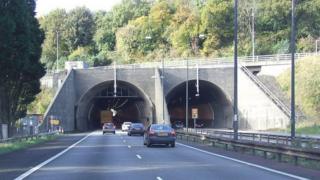 One of the M4's Brynglas Tunnels at Newport closed on Saturday evening and will not reopen until Monday morning, as its 18-month upgrade continues.
It is the first of seven scheduled closures between Junction 25a to Junction 26 this year.
Westbound traffic has been diverted on the A48 Southern Distributor Road between M4 junctions 24 and 28.
Middlesbrough football supporters travelling to Swansea for Sunday's Premier League game could be affected.
Visiting fans can use the A40 and A465 Heads of the Valleys road through Abergavenny and Merthyr Tydfil to Swansea instead.
Both tunnels will also be closed during the night occasionally as engineers upgrade the mechanical and electrical systems.
Scheduled weekend closures for the Brynglas Tunnels on the M4:
Westbound:
20:00 Saturday, 1 April - 06:00 Monday, 3 April
20:00 Saturday, 13 May - 06:00 Monday, 15 May
20:00 Saturday, 20 May - 06:00 Monday, 22 May
20:00 Saturday, 10 June - 06:00 Monday, 12 June
Eastbound:
20:00 Saturday, 6 May - 06:00 Monday, 8 May
20:00 Saturday, 17 June - 06:00 Monday, 19 June
20:00 Saturday, 24 June - 06:00 Monday, 26 June