Vintage buses to take to Barry, Vale of Glamorgan, streets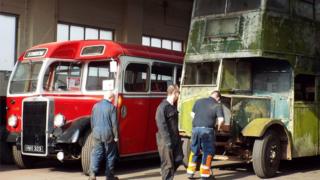 Vintage buses have run to mark 25 years since enthusiasts started a charity to preserve them.
Free trips left from the bus depot in Barry, Vale of Glamorgan, on Sunday using vehicles that used to run in south Wales up to 80 years ago.
A charity was formed in 1992 when enthusiasts got together to preserve a 1961 Cardiff bus they found in Hull.
The Cardiff Transport Preservation Group now has more than 180 members and more than 40 historic vehicles.
These include the oldest bus - a 1933 double decker used by Rhondda Transport, a World War Two-era 1944 Pontypridd bus and a 1968 Cardiff bus from when the city still had overhead wires for electric trolleybuses.
Buses left the depot every half hour between 10:30 BST and 16:30 on Sunday.