Alabama Rot warning after Monmouthshire dog death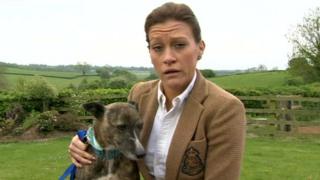 A woman from Monmouthshire has warned dog owners about a fatal disease after she was forced to put her pet to sleep.
Gabrielle Williams' dog Fluer was diagnosed with Alabama Rot after developing lesions. There have been 15 confirmed cases in the UK this year.
Ms Williams, from Magor, told BBC Breakfast it was "devastating" to see her dog deteriorate.
"From the first symptom which was her being sick to her being put to sleep was a week," she told BBC Breakfast.
"She was sick one morning. I didn't think much of it... the day after she had an intermittent limp... it did proceed to get worse and then a lesion appeared.
"I took her to the vet and she deteriorated very quickly from then on."
Alabama Rot, or cutaneous and renal glomerular vasculopathy (CRGV), has been known about since the late 1980s in the USA.
On Wednesday, vet David Walker is chairing the first conference on Alabama Rot in the UK in Reading, Berkshire.
He said without knowing the cause of the disease it was difficult to offer preventative advice.
He said: "Dogs typically get a skin legion first, often on the back of their leg and at that point the dogs are generally quite well, maybe a small limp."
He advised dog owners to be vigilant.
"If they see a skin sore on their dog and they don't know why it's developed then they should go and seek veterinary attention," he said.