Merthyr crash victim awarded seven-figure payout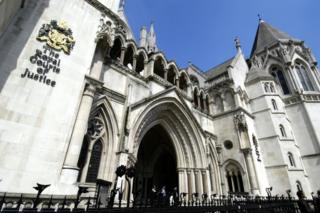 A severely injured crash victim has been awarded a seven-figure compensation payout.
The man in his 70s, who cannot be named, suffered appalling brain damage when knocked off his motorbike by a car in Merthyr Tydfil in 2014.
He remains in a "minimally conscious state" and is cared for in a rehabilitation unit near his home, London's High Court heard.
His children want to bring him home and the money would help, the judge said.
Lawyers on the man's behalf sued the motorist involved in the crash and his insurers have now agreed to settle the claim on the basis of 90% liability.
The family's counsel, Mr Stephen Killalea QC, said he would receive a £1.26m lump sum, as well as annual, index-linked and tax free payments.
'Infinitely happier'
Those payments will be £54,000-a-year while he remains in the rehabilitation unit, said the barrister.
But, if he comes home, they will increase to £247,500 to cover the enormous cost of having a round-the-clock team of carers in place.
Mr Killalea said his children are adamant he is not in a "persistent vegetative state" and is aware of the world around him.
"They care very much indeed about that and they want him in his own home. They would be infinitely happier if he were in a domestic setting of his own," he said.
Approving the settlement, Judge Richard Pearce agreed the outcome was "very much to be hoped for".
He added: "The children are committed to him being in his own home and that would be in his very best interests.
"They have a strong wish to make living at home a proper and realistic solution."
He concluded: "I pay tribute to the huge amount of commitment and dedication the children have shown in ensuring that their father has the very best possible quality of life."