Fake clothes seized in Torfaen donated to Ghana village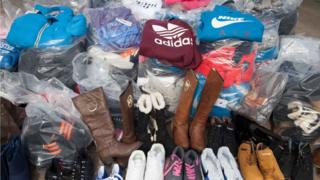 About 300 items of fake clothing seized by trading standards officers in Torfaen will be donated to villages in Africa.
They include counterfeit Timberland boots, Nike trainers, Adidas hoodies and Ralph Lauren jackets.
The fake labels will be removed and they will be sent along with medical and school supplies to villages in Ghana by National Police Aid Convoys.
Its founder David Scott said they would go to people in "great need".
Duncan Smith, Torfaen council's chief officer for neighbourhoods, planning and public protection, said the items could not be redistributed in the UK as brands were concerned about them ending up back on the black market.