Dragon 'conquers' Cardiff castle for Champions League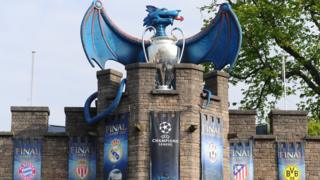 It was a giant rugby ball for the Rugby World Cup, now Cardiff Castle has been taken over again - by a dragon.
The blue beast, accompanied by a giant trophy and photographs of players on the wall, appeared on Thursday ahead of the Champions League final between Real Madrid and Juventus on 3 June.
The dragon's creator Matt Wild said: "I've seen loads of people taking photos, I think it's already picking up a bit of attention.
"It helps put Cardiff on the map."
Alan Hamer from UEFA said: "UEFA always look to create an exciting installation in the city's most iconic location.
"They've been working on this for months... and the aim really is to excite local people, raise the profile of the event and obviously for the fans to have their photos taken, their selfies, and keep spreading the word of Cardiff and Wales."
The women's Champions League final will see Lyon play Paris St Germain on 1 June at Cardiff City Stadium.