Cardiff University criticised over Welsh language complaint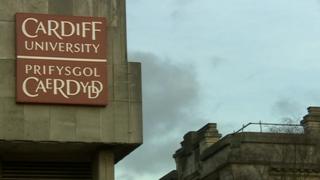 Cardiff University has failed to adhere to its own Welsh language scheme, according to a report.
Failures included sending an English only response to an email in Welsh, according to the findings from the Welsh Language Commissioner.
The university told BBC Cymru Fyw it accepted the report's findings and it was addressing its recommendations.
The commissioner became involved following a complaint by a student in December 2015.
A university spokesperson said it was "committed to ensuring its Welsh language scheme is fully implemented and meeting the requirements of the Welsh Language Act".