Tributes paid to Bishop David Thomas after sudden death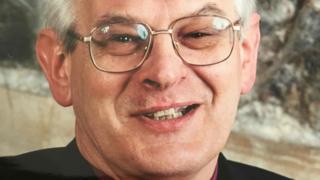 Tributes have been paid to the retired Welsh bishop, the Right Reverend David Thomas, who has died suddenly at the age of 74.
Bishop Thomas served as the Provincial Assistant Bishop for 12 years, providing care for those opposed to Church in Wales women priests.
He stepped-down in 2008 when the post ceased.
The Bishop of Swansea and Brecon John Davies paid tribute to his colleague's "long and distinguished ministry".
"At heart David was, I believe, a parish priest with great love and care for the people committed to his care and oversight," said Bishop Davies.
Celebrations
The retired priest had only just returned from a holiday to mark his 50th wedding anniversary to his wife Rosemary.
He had celebrated the 20th anniversary of his ordination as a bishop in December at a service in St Mary's Priory Abergavenny, Monmouthshire.
Canon Mark Soady, Area Dean of Abergavenny, said: "He shall be sorely missed by the people of Abergavenny who had a great fondness for him.
"Our prayers are with Rosemary and the family at this time."