Cardiff's Morgan Quarter shopping area sold for £55m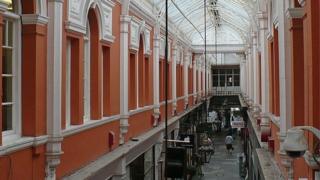 A large section of Cardiff city centre's shopping area has been sold for £55m.
The Morgan Quarter has been bought by international real estate company LaSalle Investment Manager, on behalf of the Greater Manchester Pension Fund.
It includes more than 50 stores and has been acquired from Helical, a property company.
Helical had bought the arcades and the former David Morgan department store in 2005.
David Morgan closed in that year, and more than 50 extra flats were built above the shops.
LaSalle said the Morgan Quarter was "a landmark building within Cardiff city centre providing a unique shopping environment that demonstrates our view of the future of high street retailing".
The Morgan Quarter includes both the Morgan and Royal arcades.