Cyclist Becky James' mother breaks pelvis in bike knock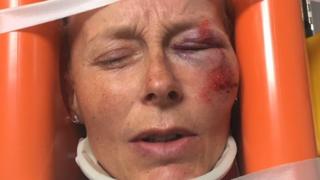 The mother of a Welsh Olympic medal-winning cyclist has been knocked over while cycling, breaking her pelvis.
Olympian Becky James, 25, pleaded with people to "think bike" after her mother Christine James was hit.
The 55-year-old, from Abergavenny, tweeted a picture of herself wearing a neck brace after the incident in Monmouthshire on Thursday afternoon.
Her daughter is a former world sprint champion who won two silver medals at the 2016 Rio Olympics.
Following the incident, Christine James said: "Not how I was expecting my Thursday afternoon ride to end. Think Once, Think Twice, Think Bike."
She added: "Lucky to escape with only a fractured pelvis and bruised lungs."
Becky James retweeted her mum's post, saying: "People, please think once, think twice, think bike!!!! My poor Mumma."
Christine James only took up cycling because she was worried about her daughters riding on their own.
But in 2013, she was runner-up in the over-50s category in the National Mountain Bikes Championships.
Gwent Police said it was called to a report of a collision between a female cyclist and a car at about 12:15 BST.
A spokeswoman said: "The female cyclist was taken to hospital to be treated for her injuries which were not thought to be life-threatening."
Fellow cyclists Dani King, Elinor Barker, Victoria Williamson and Katy Marchant have all passed on their best wishes to Christine James for a speedy recovery.