Nantyglo illegal waste dump man Adrian Lewis must pay £340k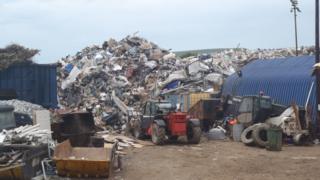 The owner of a skip hire company in Blaenau Gwent has been told to pay back £339,000 after he was jailed for illegally dumping waste.
Adrian Lewis, of Ebbw Vale, received a compensation order at a proceeds of crime hearing at Newport Crown Court.
His company had benefitted to the tune of £950,000 by illegally dumping waste, the court heard.
Judge Dan Williams gave him three months to pay and said failure to do so would result in four years in prison.
Lewis, 46, was previously jailed for eight months for breaching conditions of his waste permit at several sites in 2015.
The hearing was told that his company, A Lewis and Co, was investigated following a large fire which burned at the waste site in Nantyglo for 10 days in 2013.
Local residents had complained for years about the amount of waste being stored at the time, as well as the bad smell and rats, and much of the waste remains on site.
The judge said he was satisfied that Lewis had transferred funds from the company Adrian Lewis Plant Hire Limited in an attempt to mislead the court.
He found that sums of £73,000 and £39,000 were available in hidden assets.
The judge decided that the total available amount from bank accounts, vehicles and property, as well as the hidden assets, came to £339,023.53.
Earlier in the week, Lewis told the court that his business had suffered financial difficulties following the fire and the subsequent investigation into by the regulator, Natural Resources Wales.
He also told the court that after the failure of the business he suffered from serious mental health problems and the breakdown of his marriage.
Lewis described the past six years as "hell" and that he and his business had been the subject of arson attacks, including at one of his family homes.
The court was told by Michael Hammett, defending, that he was living on £60 a week "and struggling to put his life back together".