Street art used to redesign Parc y Rhos road, Pencoed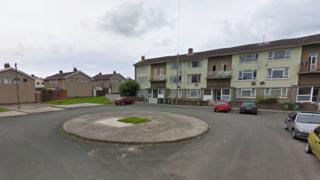 People in Bridgend county have been given the chance to redesign a street.
Following workshops and meetings since August 2016, a street kit and art will be used at a street party to test ideas for Parc y Rhos in Pencoed.
The new temporary layout will show people how their designs would work in practice.
It will also determine the best way to improve issues like lorries using the street for u-turns, speeding and a lack of play space for children.
The project, one of the first of its kind, comes as a result of collaboration between Valleys to Coast housing association, cycling charity Sustrans and Wild Spirit.
Lindsey Brown of Sustrans said: "Putting people at the centre of street design is key and that's what we've prioritised throughout this project.
"We're looking to transform the street so that it meets the residents' needs and [we're] working closely with them to discuss their ideas.
"There's a significant amount of redundant space that has attracted vehicles to use the street as a place to do a quick U-turn, making it unsafe for children to play and undesirable for residents who live here.
"We're looking to make the street functional and attractive."