Rare birds of prey stolen at Cowbridge food festival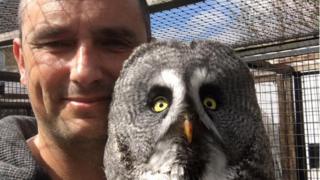 Two rare birds of prey worth more than £8,000 have been stolen after performing at a festival.
The great grey owl and the bateleur eagle were taken from the back of a van at Cowbridge Food and Drink Festival in Vale of Glamorgan on Monday.
Handler Jason Ashcroft, 44, had been showing Mamba and Misty at the event before they were taken as he packed up.
Appealing for their safe return, he said he had a special bond with the birds which was "priceless".
Mr Ashcroft said: "I was going back and forth to my car and turned my back for just a minute when they were taken.
"The bird boxes are very heavy so whoever took them must have had a car.
"Our Bateleur eagle is very rare and both birds are valuable but my main concern is the loss of the amazing relationship we have.
"The birds are very tame and have been trained over many years to bond with me. That is priceless."
South Wales Police confirmed it was investigating the thefts.
A reward has been offered for the safe return of the birds.