Paedophile Ivor Gifford, 92, jailed for grooming girls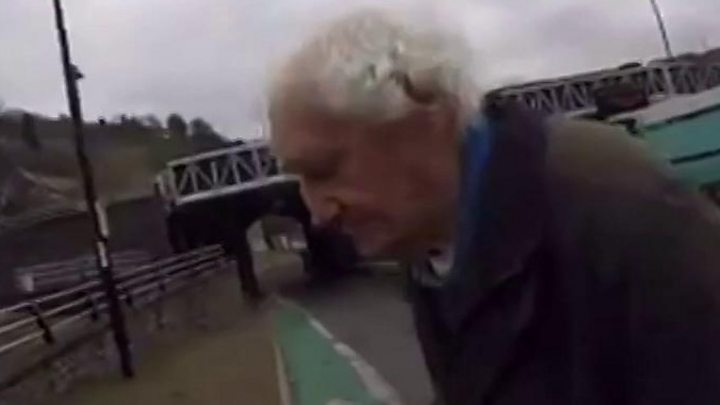 A 92-year-old man has been given an 18-month prison sentence for grooming what he believed were 11 and 12-year-old girls online.
Ivor Gifford, from Abertillery, Blaenau Gwent, was found guilty of sending explicit messages to fake profiles set up by a paedophile-hunting group.
The group, known as The Hunted One, later confronted Gifford and passed chat logs and evidence to the police.
Judge Daniel Williams told Gifford he represented "a high risk" to children.
Newport Crown Court heard two profiles, "Jessie" and "Jodie" were set up by the group, which Gifford then contacted via an internet chatroom.
The jury heard he was "persistent" in his attempts to send messages and comments of a sexual nature, despite repeatedly being told he was speaking to 11 and 12-year-old girls.
Over 100 pages of chat logs were handed to Gwent Police by the group behind the sting, in which Gifford referred to sexual acts and sent images of himself naked.
He asked one profile to "dress sexy" when they agreed to meet him.
But he was later confronted by the vigilante group at a train station in Llanhilleth, before being arrested.
The court heard Gifford was said to feel regret and embarrassment and was without any family support since being remanded in custody in December 2016.
Judge Williams said Gifford sent messages of a sexually explicit nature and asked "Jodie" to send a nude photograph.
The court heard Gifford made a second attempt to groom what he believed to be an 11-year-old girl, "Jessie", and asked her for a "naughty photo".
"When you travelled in a taxi to meet Jessie at Llanhilleth, you realised you'd been set up," said Judge Williams.
"The truth is, despite your denials in interview and in evidence, you were on the internet looking for young girls and looking for young girls to engage in sexual activity.
"You're 92 years of age. That age is reflected in your physical health, which is far from good, but you're mentally well."
Representing Gifford, Jeffrey Jones said his client had suffered a heart attack and a stroke, and had "very limited" mobility.
"He is very advanced in life," Mr Jones said. "He is in a state of shock at the publicity of the matter and the loss of his good name.
"He utters that the last thing he wants to do is bother on the internet again."
Gifford was also made the subject of a sexual harm prevention order for 10 years and he will be prevented from working with children.
Last month a jury convicted him of two charges of attempting to incite a child under the age of 13 to engage in sexual activity and attempting to meet a child following sexual grooming.