Police probe 'suspicious' Taff Trail bushes incident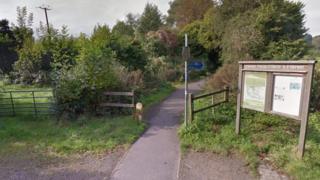 Police are treating a "suspicious incident" where a man emerged from bushes on a Cardiff path with a partly-covered face as a woman ran past.
Officers searched the area between Whitchurch and Radyr, near Forest Farm Road on the Taff Trail, following the incident at 09:15 BST on Tuesday.
The man was reportedly wearing dark blue jeans and a sandy-coloured top but police did not find the suspected man.
Police urged the man or anyone who saw something suspicious to contact them.