Fifth measles case confirmed at Lliswerry school in Newport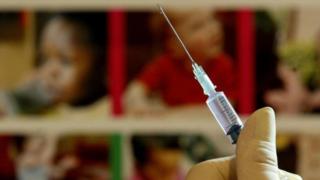 A fifth case of measles has been confirmed following an outbreak at a Newport school.
Four people with links to Lliswerry High School were diagnosed with the illness earlier this month.
Public Health Wales has now confirmed a new case after a child became unwell early last week.
MMR vaccinations have been offered to pupils at Lliswerry High and its six feeder primary schools - with 294 pupils in total taking up the jab.
Public Health Wales has urged parents to ensure their children have received two doses of the MMR vaccine to protect them against measles and its complications.
Parents have been sent letters to alert them to the risk of not vaccinating their children.
Public Health Wales said children with measles symptoms - which include a fever, cough, runny nose, red eyes (conjunctivitis), and a distinctive red rash - should be kept home from school.