M4 Brynglas tunnel westbound closed for upgrade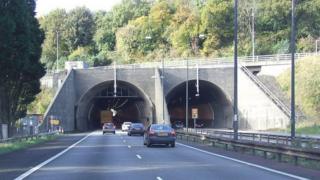 The westbound side of the M4's Brynglas Tunnels at Newport is closed on Sunday as its 18-month upgrade continues.
Westbound traffic has been diverted via the A48 Southern Distributor Road between M4 junctions 24 and 28.
The westbound carriageway, between Junction 25a and Junction 26 of the M4, will reopen at 06:00 BST on Monday.
Traffic sensors are showing "stop-start traffic" on M4 Westbound between the Coldra (junction 24) and Caerleon (junction 25).
Both tunnels will be closed during the night occasionally as engineers upgrade the mechanical and electrical systems.
Scheduled weekend closures for the Brynglas Tunnels on the M4:
Westbound:
20:00 Saturday 17 June - 06:00 Monday 19 June
20:00 Saturday 1 July - 06:00 Monday 3 July
20:00 Saturday 15 July - 06:00 Monday 17 July
20:00 Saturday 10 June - 06:00 Monday 12 June
Eastbound:
20:00 Saturday 16 September - 06:00 Monday 18 September
20:00 Saturday 23 September - 06:00 Monday 25 September
20:00 Saturday 7 October - 06:00 Monday 9 October