Tortoise found on Severn Bridge rescued by motorist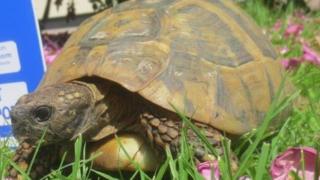 A tortoise has been saved after being found trying to cross over the Severn Bridge.
It was collected by a motorist on the M48 and taken to the nearby Marlow Vets in Chepstow, Monmouthshire.
Practice owner Caroline Marlow joked: "It looked as though it was trying to cross into England and is lucky there are no tolls that way."
She believes it could be up to 50 years old and possibly a much-loved family pet.
Mrs Marlow added: "They were once quite common family icons and there is probably quite a lot of family sentiment attached to it.
"We had another lost a few weeks ago and when the owner came to collect it, he was quite teary-eyed as it was his grandfather's."
The latest tortoise is not micro-chipped. Mrs Marlow is trying to reunite it with its owner.