Royal Mail resumes Risca's Holly Road deliveries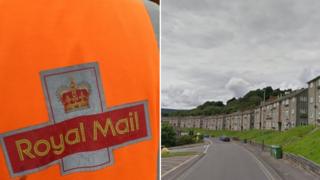 Postal deliveries are being resumed on a Caerphilly street where staff had been "threatened" by residents.
Royal Mail said it had stopped delivering post to Holly Road, Risca, after its employees had items "regularly thrown" at them.
Gwent Police had said it was aware of anti-social behaviour.
Sally Hopkins, of Royal Mail, said the company was "attempting to resume deliveries" from Thursday in co-operation with the police.
She added: "We continue to work with the police and council representatives to ensure our postmen and women can deliver safely to these addresses."